Constant Contact Design Services
Whether you're looking to launch an email marketing campaign to engage customers, rebrand your business with a new logo, or generate awareness on social media with a custom video – our designers have the experience and guidance you need to achieve results.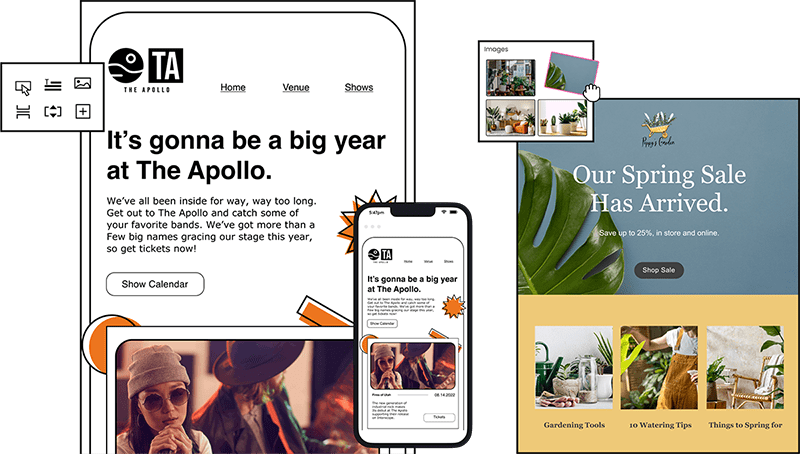 What design service can we help with?

Email Templates
From pre-built to custom projects. We have designs that'll make you look good.

Video Marketing
Make sure your messages gets the attention they deserve!

Brand and Logo Designs
We build the cornerstone of every effective marketing campaign and business.

Social Graphics
Stand out with a branded profile presence and promotional posts!
Email marketing drives $36 in revenue for every $1 spent.
Source: Litmus, The ROI of Email Marketing
Our email templates generates an average of 50%+ clickrate compared to a previous mailing.
Constant Contact 2021 Research
Our designs contribute towards a 81.54% increase in list growth size.
Constant Contact 2021 Research
Why have Constant Contact do your design?
First impression matter – and building a professional digital marketing presence can take time and effort away from what you do best. Let our experienced designers build you professional assets that follow best practices and deliver results.

Save Time
Avoid spending time creating the design yourself – let us handle the work for you.

Save Money
Your time and money is valuable. We offer competitive rates for all of our services.

Higher Conversions
On average, customers saw a 50% higher click rate compared to when doing it themselves.*

Expert Design
Our designers can match your branding – and give you the professional look you need.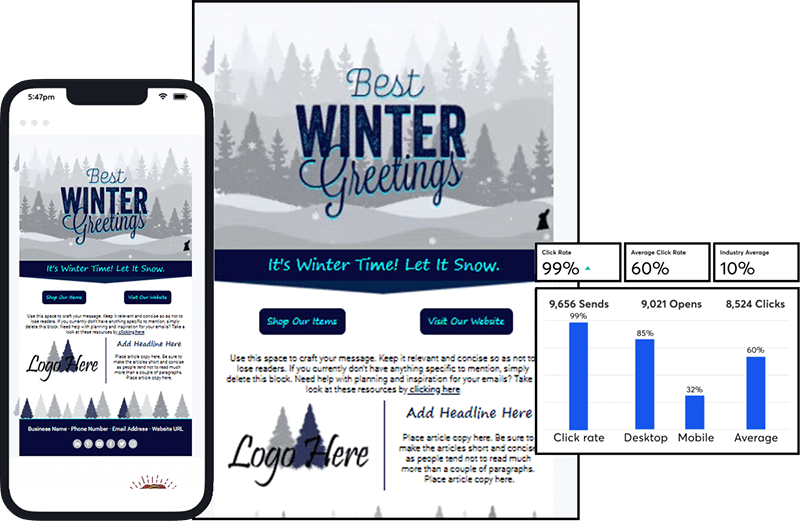 High-performing Email Templates
Double your click rate, and increase engagement time –  with a professionally created email template design. Leave a lasting impression on your customers from the moment they open your email. Reuse the template as much you want!
*Data was captured on October 2020 – February 2021
Learn more  about our Email Template Services > 
Speak with us about your design needs
Professional Logos and Branding
Want to give your business a fresh start or refresh your branding? Let our talented designers build you three logo concepts to build upon – and a branding guideline when completed. Get the professional look that will make you stand out!
Social Graphics and Branding
With Social Setup and Social Promotions, our team of experts can take your social media platforms to the next level with creative, eye-catching designs! Banners, stories, posts – and more.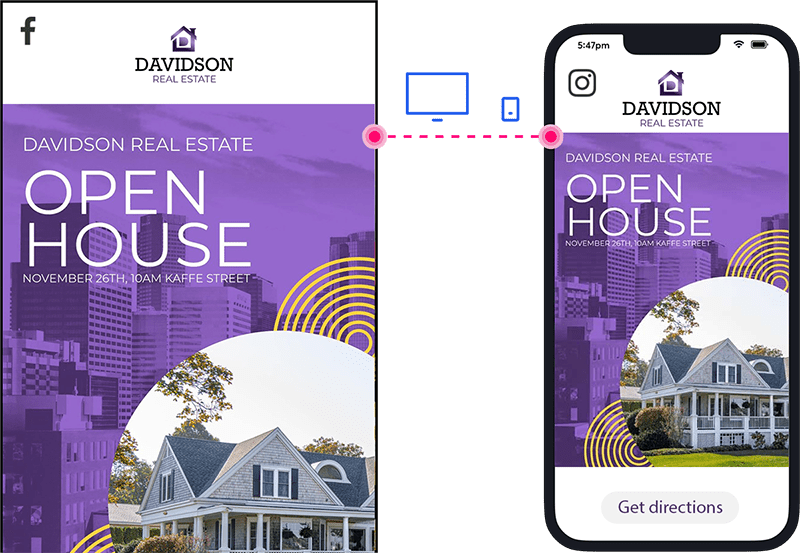 Learn about our design services
Do I need an active Constant Contact account to use design services?
Yes – once you become a part of Constant Contact, you'll unlock the ability to order all of our design services. If you are not a Constant Contact customer at this time – click here to get started today!
Am I able to use the designs outside of Constant Contact?
Yes – with our logos and social graphic services – we would provide graphics that can be used anywhere. Addtionally, to download or print any email designs as a PDF – please refer to this FAQ.
What is the typical turnaround for services?
Most of our services have a 5 – 7 business day turnaround. However certain services such as Animated Templates are delivered within 1 – 2 business days. Please see specific offer for more details.
Choose the service right for you
Email Design
Custom and catered to you and your business. Get the right template for your next send.
Video Ads
Find the perfect fit for your next email or social post.  Advertise and explain – made simple.
Logos and Branding
Just started your business journey or need a branding refresh? We've got you covered.
Social QuickStart
Have a great idea for your next social post or email but missing that perfect image? No problem.
Capture Leads. Share updates. Drive traffic. We deliver everything you need to build deeper relationships with your most important audiences. From email to ecommerce, SMS to social, CRM to see what's next, we deliver tools to help small businesses grow. We deliver for you – the people who make them go.